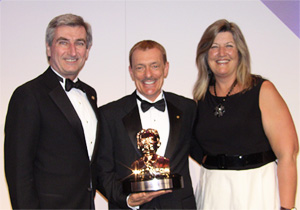 The ADEAGies Foundation honoured Dalhousie University's faculty of dentistry with its 2012 William J. Gies Award for Achievement in the Academic Dental Institution category, at a ceremony held in conjunction with the American Dental Educators Association (ADEA) annual session on March 19 in Orlando, Florida. Dalhousie was recognized for its outstanding achievements in support of dental education. It marks the first time the award was bestowed upon a Canadian dental faculty.
The Dalhousie faculty of dentistry is also preparing to celebrate a milestone this year as its Centennial Celebrations will take place in Halifax from May 23 to 26, 2012. The countdown is on as Dalhousie will "Celebrate Our Past and Embrace The Future" through a wide array of social events, CE classes and class reunions.
Visit www.daldentistry100.ca for more registration and event details.
disponible en