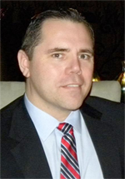 The Canadian Academy of Pediatric Dentistry (CAPD) elected Dr. Warren Loeppky of Calgary as president during the CAPD annual general meeting in September.
A 1997 graduate of the University of Saskatchewan, Dr. Loeppky obtained his master's degree in pediatric dentistry from the University of Toronto in 2005.
Dr. Loeppky is section head of pediatric dentistry at the Alberta Children's Hospital and is a founding mentor for the Calgary Pediatric Dentistry Journal Club. He has fellowship certification in pediatric dentistry from the Royal College of Dentists of Canada and is a diplomate of the American Board of Pediatric Dentistry.
In other CAPD election results, Dr. Michal Goralski of Barrie, Ontario, was appointed vice-president.
disponible en