Cite this as: J Can Dent Assoc ;76:a156
Body
Alendronate sodium (Fosamax, Merck Frosst Canda Ltd., Kirkland, QC) is a nitrogen-containing bisphosphonate antiresorptive agent that is commonly used as a first-line agent for the prevention and treatment of postmenopausal osteoporosis. It inhibits bone resorption by interfering with the recruitment, differentiation and action of osteoclasts, which in turn prevents vertebral and nonvertebral fractures.1 In Canada alendronate is available by prescription for the treatment of postmenopausal osteoporosis (as a daily dose of 10 mg or a weekly dose of 70 mg) and Paget's disease of the bone (40 mg daily for 6 months). Compliance with the dosing instructions for this drug is crucial to avoid chemical esophagitis. Adverse effects exemplified by problems of the upper gastrointestinal tract, including esophagitis and gastritis, have been widely reported.2-4 The manufacturer provides specific dosing instructions to reduce esophageal irritation; these instructions include preventing prolonged contact between the alendronate and the oral and esophageal mucosa.
The following 2 case reports reveal oral mucosal complications similar to esophagitis and gastritis complications. These symptoms can be difficult to diagnose correctly. Both of the patients were unable to follow the manufacturer's dosing instructions because of comorbidity. As a result, there was prolonged contact between the oral mucosa and the alendronate. Fortunately, in both cases, the persistent widespread oral mucositis resolved once the cause of the adverse drug reaction was identified and corrective measures were taken.
Case Reports
A 48-year-old man residing in an assisted-living facility was referred for an oral medicine and pathology consultation because of persistent generalized oral ulceration and pain refractory to topical steroid. The patient had cerebral palsy, osteoporosis, hiatus hernia and schizophrenia, and he was legally blind. He had no known drug allergies. At the time of examination, the patient was in a wheelchair and exhibited verbal, physical and behavioural difficulties. He was expressing pain on the right side of the oral cavity. Examination showed a well-delineated deep ulceration with pseudomembranous coverage encompassing the right buccal mucosa, right inner commissure, right lower mucosal lip and right ventrolateral tongue (Fig. 1). The pseudomembranous area was rubbery to firm in texture, and there was no spontaneous bleeding. However, palpation of the area caused excruciating pain. The dentition on the right side showed significant wear of the natural teeth and restorative materials. Upon further review of the patient's medications, it was discovered that he was receiving alendronate (70-mg tablet weekly by mouth) in addition to once-daily Didrocal (etidronate 400 mg with calcium 500 mg) for management of osteoporosis. The patient reported that he was never able to "swallow" the pills because of muscle discoordination related to his cerebral palsy. Instead, he "chewed" the pills with his right-side dentition. The patient had never been told that he should drink a glass of water after taking the alendronate. Given the clinical history and the results of the examination, the clinical impression was oral ulceration due to direct contact with alendronate (i.e., direct chemical contact). No other dosage form or administration alternative was available at the assisted-living facility to help the patient in eliminating direct contact between the alendronate and the oral mucosa. Therefore, after communication with the prescribing physician, the patient was instructed to stop using the alendronate. Six weeks later, a follow-up examination showed healthy pink mucosa at the previously ulcerated sites, without any scarring (Fig. 2).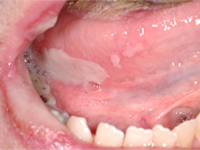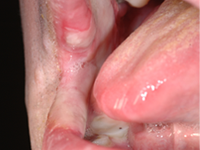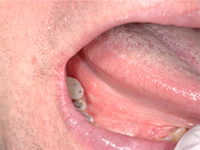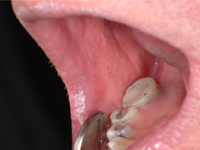 A 65-year-old woman residing in a long-term care facility was seen for evaluation of persistent severe gingivitis. The patient had hemiplegia because of a cardiovascular event a few years earlier, and she also had osteoporosis. She had no known drug allergies. Two support staff accompanied the patient to the evaluation appointment, to provide behavioural assistance and translation. A limited examination was performed because the patient had difficulty following the instruction to open the mouth. A delineated ulceration was found in the lower anterior buccogingival vestibule (Fig. 3), along with drooling and excessive saliva. The patient was taking alendronate weekly, so specific questions about administration of this drug were addressed to staff from the long-term care facility by telephone. This questioning revealed that because of the patient's inability to open her mouth, nursing staff were grinding the alendronate tablet and spooning the powder into the vestibule (where the ulcer developed). The nursing staff were unable to state definitively whether the powder was eventually swallowed or if it was being held in the vestibule. The diagnosis was oral mucositis caused by improper administration of alendronate. A recommendation was made to the prescribing doctor to switch the alendronate from the tablet form to a solution (70 mg in 75 mL). Unfortunately, the patient was unable to tolerate the solution because persistent perioral and neck erythema and swelling developed after administration of each dose. Alendronate therapy was therefore discontinued. Follow-up examinations at 6 weeks (Fig. 4) and 5 months (Fig. 5) showed slow but steady resolution of the oral ulceration.
Discussion
To reduce the risk of esophageal and oral mucosal adverse effects associated with alendronate, a strict administration protocol is warranted. The following instructions constitute the correct method for oral consumption of alendronate:5
Swallow the tablet with a full glass of water.
Avoid lying down for at least 30 minutes after taking the dose and until after the first food of the day has been consumed.
Do not chew or suck on the tablet.
A review of the Canada Vigilance Adverse Reaction Online Database revealed about 375 cases of gastrointestinal adverse reactions possibly related to alendronate, reported between 2000 and 2009.6 Of these, about 25 cases involved signs and symptoms within the oral cavity, such as swollen tongue, altered oral sensation and infection of the jaw. Only one case specified "stomatitis."
Only a few cases of bisphosphonate-associated stomatitis or oral mucositis have been reported in the literature.7-10 These cases have shared similar clinical features and have had chronologies similar to those in the cases reported above. The oral mucositis presented as widespread erosion or ulcerations, with thickening of the adjacent mucosa and no obvious bleeding. The location of ulceration corresponded to the reported site of prolonged drug exposure (i.e., the location where patients kept the alendronate tablet in the mouths before swallowing). The ulcerations resulted from a direct effect of the drug on the oral mucosa, although the exact mechanism has not yet been determined. Direct cytotoxicity of the drug and acidity of the formulation have been suggested as possible mechanisms.7-10 In all reported cases, the symptoms and clinical signs slowly resolved once the alendronate was withdrawn.
Physicians and oral care providers should be aware that rigorous adherence to the instructions for use of alendronate will minimize the risk of oral mucositis. Switching to other dosing forms (e.g., solution instead of tablet) would be an option for patients with dysphagia. However, if the adverse effect persists, it may be appropriate to review the risks and benefits of bisphosphonate for the individual patient,11-13 especially in an institutional setting. For example, if a patient who has difficulty swallowing tablets is bedridden or confined to a wheelchair, the risk of a fall resulting in hip or vertebral fracture may be relatively low under supervised care. Although alternative therapeutic options can be considered, discontinuation of the medication is a more practical option to reverse alendronate-related oral erosive mucositis such as that described here.
Conclusions
Patients who are taking the oral formulation of alendronate must be instructed to swallow the whole pill and then to drink a full glass of water. Clinicians must be aware of the potential for oral toxic effects if the drug is taken incorrectly. If adverse effects of this medication are suspected, oral care providers should communicate promptly with the prescribing physician to discuss methods of improving compliance.
THE AUTHORS
References
Brown JP, Josse RG; Scientific Advisory Council of the Osteoporosis Society of Canada. 2002 clinical practice guidelines for the diagnosis and management of osteoporosis in Canada. CMAJ. 2002;167(10 suppl):S1-34.
Vestergaard P, Schwartz K, Pinholt EM, Rejnmark L, Mosckilde L. Gastric and esophagus events before and during treatment of osteoporosis. Calcif Tissue Int. 2010;86(2):110-5. Epub 2009 Dec 3.
Zografos GN, Georgiadou D, Thomas D, Kaltsas G, Digalakis M. Drug-induced esophagitis. Dis Esophagus. 2009;22(8):633-7. Epub 2009 Apr 15.
Lanza F. Bisphosphonate mucosal injury—the end of the story? Dig Liver Dis. 2003;35(2):67-70.
Fosamax product monograph. Merck Frosst Canada Ltd website. Available: www.merckfrosst.ca/mfcl/en/corporate/products/fosamax.html. Updated November 5, 2010. Accessed November 8 2010.
Canada Vigilance Adverse Reaction Online Database. Health Canada website. Available: www.hc-sc.gc.ca/dhp-mps/medeff/databasdon/index-eng.php. Updated September 27, 2010. Accessed November 8, 2010.
Gonzalez-Moles MA, Bagan-Sebastian JV. Alendronate-related oral mucosa ulcerations. J Oral Pathol Med. 2000;29(10):514-8.
Rubegni P, Fimiani M. Images in clinical medicine. Bisphosphonate-associated contact stomatitis. N Eng J Med. 2006;355(22):e25.
Demerjian N, Bolla G, Spreux A. Severe oral ulcerations induced by alendronate. Clin Rheumatol. 1999;18(4):349-50.
Gómez V, Xiao, SY. Alendronate-induced esophagitis in an elderly woman. Int J Clin Exp Pathol. 2009;2(2):200-3. Epub 2008 Jun 20.
Gates BJ, Sonnett TE, DuVall CA, Dobbins EK. Review of osteoporosis pharmacotherapy for geriatric patients. Am J Geriatr Pharmacother. 2009;7(6):293-323.
Feldstein AC, Weycker D, Nichols GA, Oster G, Rosales G, Boardman DL, Perrin N. Effectiveness of bisphosphonate therapy in a community setting. Bone. 2009;44(1):153-9. Epub 2008 Sep 26.
Bolland MJ, Grey AB, Gamble GD, Reid IR. Effect of osteoporosis treatment on mortality: a meta-analysis. J Clin Endocrinol Metab. 2010;95(3):1174-81. Epub 2010 Jan 15.