Every year, CDA recognizes individuals and organizations for outstanding service to the Association and for their contribution
to the dental profession. The recipients of CDA's 2009 Award of Merit, Special Friend of Canadian Dentistry and Oral
Health Promotion Awards were honoured at a reception held in Ottawa in November.
CDA's Award of Merit is given to individuals who have served in an outstanding capacity in the governing of CDA or who
have made similar outstanding contributions to Canadian dentistry. There were 3 Award of Merit recipients in 2009: Dr. Debora
Matthews and Dr. Mary McNally of Halifax, and Dr. Peter Trainor of Listowel, Ontario.
Dr. Debora Matthews is head of the division of periodontics
at Dalhousie University's faculty of dentistry. She is a recognized
leader in evidence-based dentistry and teaches several
courses at Dalhousie in this discipline. She is vice-president of
the Canadian Association of Dental Research and a member
of the International Association of Dental Research Council.
She is also a member and past vice-chair of health policy
with the Nova Scotia Health Research Foundation. She has
recently been involved with a research project assessing the
oral health of seniors in Nova Scotia. Dr. Matthews has also
served as a JCDA editorial consultant for many years.
Dr. Mary Mcnally is head of the division of preventive dentistry
and oral health promotion at Dalhousie University's faculty
of dentistry. She has served the profession both nationally
and provincially, with a primary focus on ethics and the oral
health of seniors. Dr. McNally has been a member of the CDA Seniors' Task Force, the CDA Expert
Advisory Panel on Ethics and CDA's Ethics Committee. She has also been actively involved with
the Canadian Bioethics Society and the International Dental Ethics and Law Society. Dr. McNally is
currently an associate editor with JCDA.
Dr. Peter Trainor has been actively involved in organized dentistry for many years, most notably
with the Ontario Dental Association (ODA). He is a past member of the ODA Board of Governors
and Board of Directors. He was chair of the ODA Audit Committee and served as ODA president in
2002. He is currently vice-president of the Royal College of Dental Surgeons of Ontario. Dr. Trainor
has been a member of CDA's Board of Governors and General Assembly, CDA's Task Force on
Membership Equity and the e-business working group.
The Special Friend of Canadian Dentistry Award is given in
appreciation for exemplary contribution to Canadian dentistry.
The 2009 recipient of this award was AboutFace, a voluntary
charitable organization that works to help people affected by facial
differences. AboutFace provides information, creates resources and
runs programs that provide social support and raise self-esteem.
It works with many stakeholders, including health professionals,
to increase awareness about the particular needs of its clients and
their family members. Dentistry and AboutFace work together to
improve the oral health of individuals with facial deformities to
allow them to enjoy life's possibilities.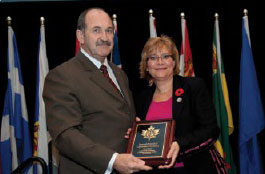 The Oral Health Promotion Award recognizes individuals or organizations that have improved the oral health of Canadians
through oral health promotion.
The first recipient was the Canadian Forces Dental Services
(CFDS). The CFDS received the award in recognition of its outstanding
contribution to the oral health component of the Canadian
Health Measures Survey (CHMS). The CFDS contributed personnel
for the survey's clinical oral examinations. Under the leadership of
Colonel Scott Becker, a team of 13 CFDS dentists performed clinical
oral examinations at 15 locations on over 6000 Canadians. In total,
the CFDS contributed over 1000 clinical days to this national project.
CFDS is a member of the CHMS Oral Health Steering Committee,
advising on all aspects of the oral health module of the study.
The second recipient of the Oral Health Promotion Award was the
Registered Nurses' Association of Ontario (RNAO). The RNAO
received the award for the development of its best practice guideline
Oral Health: Nursing Assessment and Interventions. The guideline
was developed by a diverse team of health care professionals
and was designed to assist nurses by providing them with evidencebased
oral health resources and tools for adults with special needs,
including the elderly, the physically compromised and those with
mental health issues. The RNAO guideline can increase the oral
health awareness of nurses and other health care professionals
practising in Ontario.
The recipients of CDA's Honorary Membership and Distinguished
Service Awards for 2009 will be formally recognized in April. In
advance of this ceremony, CDA would like to congratulate Dr. David
Sweet of Vancouver, who will receive Honorary Membership. Dr.
James Leake of Kingston, Ontario, Dr. Peter Stevenson-Moore of Vancouver and Dr. Robert Sexton of Corner Brook, Newfoundland,
will each receive the Distinguished Service Award.
disponible en