The goal of using active teaching strategies in dental education is well accepted. Yet lecturing remains a popular teaching method at our universities, a technique that can typically result in a significant drop in student attention anywhere from 10 to 30 minutes into a presentation.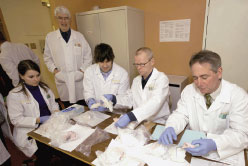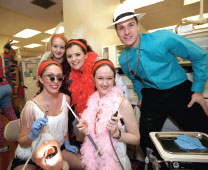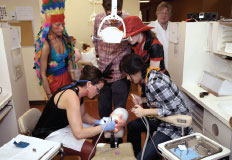 At Dalhousie's faculty of dentistry, we have integrated several teaching innovations into our curriculum with the goal of engaging students in more active learning. One of our most popular initiatives, the "Prosthodontic Olympics," was developed in 1988 with an underlying philosophy that learning could be both engaging and fun.
Our Olympics consist of 5 events: alginate impressions, boxing a final impression, making a custom tray, crown preparations and a provisional restoration. Students work in teams and dress in costumes for the games. Prizes worth over $7000 are donated by the dental industry and are awarded to the gold, silver and bronze medallists. Regular classes are cancelled on the morning of the competition and there is a boisterous opening ceremonies, which includes the lighting of our Olympic flame and the official introduction of the teams. Students practise for their events before the Olympics, and faculty mentors provide feedback on student performance. Faculty members have noted that at times, students seem more willing to practise for the Olympics than they might for their other class assignments!
For the competition, faculty members grade the quality of products as a team, which also acts as an informal calibration opportunity. Students with the highest combined scores for quality and speed win their events. Prosthodontic Olympic Record times are recorded for posterity.
Student feedback on the event has been extremely positive. "My favourite day of the whole year was the Prosthodontic Olympics," said one student. For another student, "having quality count for more than speed made us remember that quality is the most important aspect of our work."
Competitions such as the Prosthodontic Olympics at Dalhousie can improve the speed and proficiency with which students complete clinical tasks, without loss of quality. Additional benefits include opportunities for faculty calibration while having a minimal impact on curricular time. We invite other institutions to provide more active learning opportunities that are both engaging and fun for our dental students.
Winning times at the 2010 Dalhousie Prosthodontic Olympics

 
Event
Student
Time (min)
Alginate impressions (2)
Marianne Dobbin
2.16
Boxing an impression
Kate Sweeney
0.42
Rubber dam placement
Kristle Lambert
3.01
Crown preparation
Melissa Brobst
13.18
Temporary crown
Anita Marchesi
14.09
For more details about the Prosthodontic Olympics, including photos, a movie and student comments, visit:
http://removpros.dentistry.dal.ca/RemovSite/Olympics.html.
disponible en