Cite this as: J Can Dent Assoc ;76:a6
Body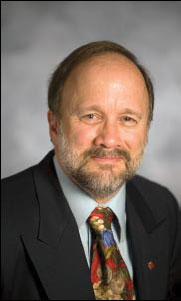 In my most recent columns I have been discussing the 3 strategic priorities of a renewed CDA, where we focus our knowledge and advocacy efforts on supporting a strong profession, a united community and a healthy public. As dentists, I believe that the guiding principle behind these strategic priorities is to ensure that he public we serve is as healthy as can be.
While those in the profession are well aware that a healthy mouth is critical to a person's overall well-being, this fundamental relationship should be re-emphasized to our patients. CDA helps spread this oral health–general health message through various public education initiatives, the most recent being a joint oral health campaign with Health Canada's Office of the Chief Dental Officer and the Dental Industry Association of Canada. Launched in December, the campaign includes online videos and educational brochures, reinforcing the importance of preventive oral hygiene practices as well as a healthy diet and lifestyle.
CDA and our partners must continue to support such public education efforts, making sure to address the many factors that can affect the oral health of Canadians. However, these educational efforts should also be directed at government decision-makers who inform the broad policy and program decisions that can influence the health of the public.
One of the ongoing challenges in our communications to these decision-makers has been a relative shortage of national statistical indicators of oral health. This will soon change as the results of the Canadian Health Measures Survey (CHMS) are scheduled to be released over the coming months. This national survey has been examining the health of the public by taking direct physical measurements from over 5000 Canadians at 15 collection sites in 5 provinces. The measurements range from blood pressure to body mass index and—of greatest importance to dentistry—direct measures of oral health taken from clinical oral examinations.
Some preliminary CHMS results published in January show that the number of Canadians who reported they had no natural teeth declined significantly since 1990. A Statistics Canada analysis of these positive edentulism figures attributed this long-term decline to the widespread use of fluorides in Canada and to improved access to dental care.
Although the complete results of the CHMS will not be published until this spring, we anticipate the data will show that the oral health of the vast majority of Canadians is strong. However, since many determinants of oral health are related to socioenvironmental factors, the greatest burden of oral disease will likely be found among our disadvantaged and socially marginalized communities. We must also be mindful of the oral health needs of these Canadians, those who may not have the ability or means to seek care at our practices.
CDA is working proactively on this issue and has created a CHMS Working Group with our partners across the country. This group is taking steps to draft a position statement on access to care on behalf of the profession, one that will acknowledge the strengths and weaknesses of our oral health system revealed in the CHMS report and define solutions to fill potential service gaps.
Helping to nurture a healthy public includes collecting and analyzing evidence about the indicators of oral health, demonstrating that the current model of delivering oral health care in Canada is effective, and using our knowledge and advocacy channels to deliver these messages to the public and government decision-makers.
CDA will continue to work with our partners to support initiatives that ensure the oral health of all Canadians, regardless of socioeconomic status. This includes seeking increased government funding for oral health research and for local or provincial programs that provide services to those Canadian who may be unable to access oral care.