I would like to thank JCDA for the opportunity to present the University of British Columbia (UBC) faculty of dentistry to its readership. A major achievement of our faculty was the completion of an operationalized strategic plan (www.dentistry.ubc.ca/strategicplan) that serves as a guide for all of our planning and activities for the next 5 years. The plan's 10 strategic objectives are all organized around 3 primary themes for the future: enhancing the student experience; amplifying research productivity; and increasing community involvement.
The strategic plan provides clarity on the direction the faculty is heading and how all students, staff and faculty can individually and collectively contribute to achieving our strategic objectives. I hope this special issue of JCDA will provide further insight into our current activities and achievements and our plans for the future.
Beginning on page 27, Dr. Joanne Walton reviews our achievements with respect to enhancing the student experience. Dr. Ed Putnins reviews our achievements in amplifying research productivity. Dr. Chris Zed describes how the faculty has increased community involvement. In each of these 3 areas, we provide a brief sampling of the many ongoing activities. We would encourage you to follow the URL links to learn more about the specific topic areas.
Faculty members are the lifeblood of any university. At UBC, we are fortunate to have an outstanding foundation of productive faculty members along with a growing complement of new faculty. Our financial stability has allowed us to actively recruit new faculty members. In the past year, UBC has appointed 8 new tenure-track faculty members. All of these individuals will contribute to the teaching, research and service missions of the faculty and the university. Our teaching activities help the educational progress of dental, dental hygiene, dental specialty graduate and master's or doctorate level graduate students. The opening of 4 new graduate dental specialty diploma programs, linked with either an MSc or a PhD, will lead to a robust growth in graduate student research that contributes to improvements in oral health. In addition to our new tenure-track faculty members, we have also benefited from an increase of over 150 additional practising dentists, who serve as clinical instructors in our student clinics. These clinicians provide mentoring and supervision in the direct patient care experiences of the students in the faculty.
Our healthy financial situation has also permitted extensive renovations to our original dental building—the John B. Macdonald Building. This ongoing renovation project will create new teaching and learning spaces, new laboratory spaces and improved student lounges and facilities. The growth in the number of academic programs and students made the additional space necessary. Furthermore, the increased use of technology-enhanced teaching has changed the structure of student learning areas, which requires careful planning. The growth of research programs in the faculty also requires new laboratory space, and we have been fortunate to collaborate with other departments at UBC to develop research in new buildings on campus. The research conducted by our faculty is shaping the future of the dental profession as new approaches to diagnosis, management and treatment are derived from the completion of this fundamental research.
I hope you enjoy learning more about the UBC faculty of dentistry. We are quite proud of our achievements and excited to share them with you. I would encourage you to visit our faculty of dentistry when you travel to Canada's west coast, to personally meet our outstanding students, staff and faculty members. They are all making a difference and contributing to the achievement of our strategic plan and the future of the Canadian dental profession.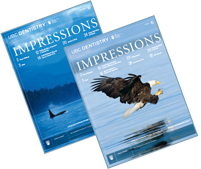 Impressions Magazine
Each issue of Impressions magazine focuses on activities that directly address UBC Dentistry's 3 strategic priorities: enhancing the student experience, amplifying research productivity, and increasing community involvement. Feature articles highlight the faculty's recognized leadership and key role in shaping the future of the profession.
Impressions magazine won the 2010 Meskin Journalism Award for excellence in dental student publications, presented by the American Association of Dental Editors.
Read past issues of Impressions at www.dentistry.ubc.ca/impressions
disponible en