Cite this as: j can dent assoc ;77:b56
Body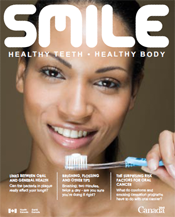 The "Smile: Healthy Teeth, Healthy Body" booklet, which promotes optimal oral health for the Canadian public, is readily available for dentists.
Created in 2009 through a partnership between CDA, Health Canada's Office of the Chief Dental Officer and the Dental Industry Association of Canada, the booklet was part of a public awareness campaign designed to encourage Canadians to improve their oral health and raise awareness about the benefits of good oral health.
The booklet focuses on the links between oral health and general health, provides brushing and flossing tips and discusses risk factors and preventive behaviours for oral cancer. PDF versions of the booklet are available at www.hc-sc.gc.ca/hl-vs/pubs/oral-bucco/2009-smile-sourire/index-eng.php.
Dental offices can also order up to 50 printed copies of the booklet by sending an email to publications@hc-sc.gc.ca. Larger orders can be placed with the Office of the Chief Dental Officer at ocdo-bdc@hc-sc.gc.ca.