It's all about perspective and how one views the world. You can try to read and research all about a subject or you can dive in and learn by doing. CDA's new president Dr. Robert Sutherland likes to do both and he comes to the role with a wealth of first-hand experience in a variety of disciplines within dentistry. He combines knowledge of academia, specialty dental practice and the governance of dentistry, to be uniquely positioned to bring together different groups to address the issues facing the Canadian dental profession.
Dr. Sutherland has had a long association with the University of Toronto—the site of both his undergraduate and master's degrees in science. Following his masters, and in keeping with his overall interest in health, he chose to pursue his dental degree and graduated with the U of T class of 1980. Furthering his studies, he specialized in periodontics and earned his diploma in periodontics 3 years later. Although a career path devoted to the academic health sciences was a possibility, he ultimately chose to set up practice in Toronto.
Dr. Sutherland's initial forays into organized dentistry came about like many others who become involved at the local dental society or association level—he was asked by a colleague to join. He soon became hooked on the challenge of leading change. "Once you start working at the committee level you become increasingly aware of the larger issues that are the driving forces behind these tasks."
His involvement in organized dentistry has helped to counterbalance the isolation that can sometimes occur when working as a private practitioner. He has thoroughly enjoyed the collegiality of working with others on matters that affect the profession. One such colleague that inspired Dr. Sutherland was the late Dr. Jocelyn Pearce of Campbellcroft, Ontario, who passed away in August 2011. The pair worked together while both were members of the Ontario Dental Association Board of Directors. He admired Dr. Pearce for her strategic approach to tasks, along with her verve and love of life. "She always jumped into her work with great energy and always did her very best at anything that came her way," he recalls.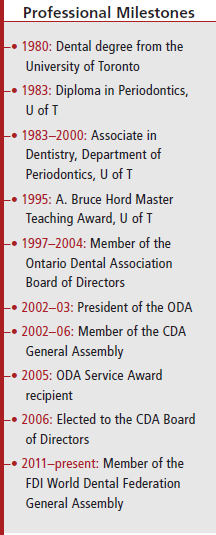 Strategic Approach to Leading Change

Dr. Sutherland has enough perspective to realize that making positive longterm changes requires addressing micro- and macro-level challenges in different ways. "You need to identify the complex issues, break them down into manageable pieces and commit resources towards them for a longer period of time," he says. While tackling these large issues may pose a challenge, it is just such challenges that spark Dr. Sutherland's interest.
He cites CDA's efforts on advocating for access to care as one macrolevel issue that will be at the forefront of his agenda during his time as CDA president. CDA has chosen to address access to care by first focusing on early childhood caries and promotion of the first dental visit by age 1, along with developing a minimum standard of oral health care at long-term care facilities across Canada.
He views these as incremental and achievable goals on the broader access issue. "I'm a firm believer in setting achievable goals and objectives, reaching them and then moving on to the more complex aspects of an issue," he says. "One quotation that has always resonated with me is 'Just because you can't do everything doesn't mean you shouldn't do something— and just because you do something doesn't mean you have to do everything.'"
Although as a periodontist he does not generally treat children, Dr. Sutherland has worked extensively with seniors and believes they should be treated with the same care and respect shown to all patients. "Seniors want and deserve value for service and care within the context of their needs and expectations," he says. "We all need to listen to what they are saying, because most often they know what they want if treatment options are explained clearly." He would urge his fellow practitioners to perhaps alter their own perspectives, to view the world through the eyes of their patients. This includes treating patients with the foresight that we will all be seniors someday. "Most procedures in dentistry have a finite lifespan, so we should always keep the long-term outcomes and risks of treatment top of mind," he cautions.
Working Together Towards a Common Goal

Dr. Sutherland adopts a pragmatic approach to tasks and knows that CDA can't expect to make significant change on complex issues in a short period of time. "CDA needs to continue our efforts and see things through over the long run, and perhaps in 5 to 10 years we can make a dent in some of the larger issues," he says. Dr. Sutherland is quick to point out that dentistry should not address issues on its own. "We will need to collaborate with other health care groups both within and outside dentistry," he adds.
He acknowledges that communication can always be improved between CDA and the provincial associations, specialists and academia. But rather than just talking, Dr. Sutherland has found that actually working together on an issue is far more productive. "Talking together is one thing but working together on a common objective is what truly brings groups together," he notes.
He views CDA's strengths coming from the dedication, commitment and skills of staff and volunteer dentists. The ranks of these CDA volunteers have included Dr. Sutherland along with Dr. Susan Sutherland—chair of CDA's Clinical and Scientific Committee for 5 years and Dr. Sutherland's wife for 36 years now. It is with Susan and sons Eric, Patrick and Michael that Dr. Sutherland can be found on weekends at their family cottage near Haliburton, Ontario. He enjoys this cottage time where he gets a fresh perspective from his urban life in Toronto while also indulging his fondness for reading historical novels and biographies, having recently completed The Last Empress, the story of Madame Chiang Kai-shek.
"I see myself as a person who embraces change. I like trying new things and taking different approaches," he continues. Dr. Sutherland's ability to think strategically about the long term goals of an organization will define his tenure at CDA. "I like exploring new ideas, but not simply for the sake of change" he concludes. "I would like to see CDA help to make a fundamental difference in the lives of dentists, in the strength of our profession and in the health of Canadians."
disponible en