Download PDF

Abstract
Dental pain is a common complaint among the general population. Most pain is a result of traumatic injury or bacterial infection in pulpal and periapical tissues, and dental practitioners are successful at diagnosing these conditions and providing prompt relief. However, in some cases, patients continue to complain of persistent pain, which may be categorized as neuropathic. These people may avoid or neglect routine dental treatment or interventions to prevent precipitation, perpetuation or exacerbation of their pain condition, and practitioners may have to modify their procedures when managing the dental needs of this unique population.
---
Dental pain is a common complaint among those seeking dental care. In 1993, an estimated 12.2% of the American general population had experienced toothache in the last 6 months.1 In the United States between 1997 and 2000, 2.95 million people presented to an emergency department with a chief complaint of toothache or dental injury.2
Most dental pain is a result of traumatic injury or bacterial infection originating from pulpal and periapical tissues3-7 and is classified as nociceptive or inflammatory. According to the International Association for the Study of Pain (IASP),8 nociceptive pain "arises from actual or threatened damage to nonneural tissue and is due to the activation of nociceptors." Nociceptive pain is the term used to describe pain occurring with a normally functioning somatosensory nervous system. It is stimulus dependent and is evoked by high-intensity (noxious) stimuli. Furthermore, it is biologically adaptive, as it protects by signaling potential tissue damage.9
Inflammatory pain occurs in response to tissue injury and is subsequently followed by an inflammatory response to aid the healing and repair process. It is a spontaneous and stimulus-dependent pain that involves sensory amplification evoked by both low- and high-intensity stimuli. Inflammatory pain, which creates pain hypersensitivity during healing and repair, is biologically adaptive and most often reversible.9,10
Dental practitioners, general practitioners and specialists are very successful at recognizing, understanding and treating these categories of pains, bringing prompt relief to their patients. Reported success rates (i.e., the treated tooth is still present 5 years after initiation of treatment) for endodontic treatment are in the range of 89.7% to 98.1%.11 However, in some cases, those who have undergone dental treatments that have been considered both clinically and radiographically successful continue to complain of persistent pain. These people may be experiencing neuropathic pain.
Neuropathic pain is defined by the IASP as "pain caused by a lesion or disease of the somatosensory nervous system."8 Furthermore, "neuropathic pain is a clinical description (and not a diagnosis) which requires a demonstrable lesion or a disease that satisfies established neurological diagnostic criteria." However, a patient presenting with neuropathic pain may not have a "demonstrable lesion or disease." Costigan and others9 refer to this as dysfunctional pain. Dysfunctional pain is considered to represent a malfunction — which can be considered a disease in itself — of the somatosensory apparatus involving spontaneous and stimulus-dependent pain (evoked by both low- and high-intensity stimuli) without known structural nervous system lesions or active peripheral inflammation.
Clearly, the differences between nociceptive, inflammatory and neuropathic pain should be recognized and understood by all dental practitioners (Table 1). In addition, a fourth type of pain, termed mixed pain, has features common to all 3 categories.12 In this article, we discuss neuropathic pain in the context of dysfunctional pain limited to the orofacial region.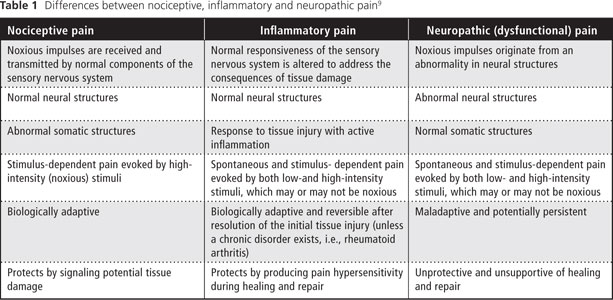 For clinical purposes, to further categorize neuropathic orofacial pain (NOP), a system based on a temporal assessment may be used. Hence, NOP may be considered continuous or episodic, each associated with distinct characteristics. Continuous NOP originates in neural structures and is manifested as a constant, ongoing and unremitting pain. Patients usually experience varying and fluctuating intensities of pain, often without total remission. This pain is frequently perceived in dental structures and has been referred to as atypical odontalgia13,14 or sometimes phantom toothache.15,16 In some cases, this pain may have a sympathetic component.17 Patients experiencing continuous NOP often report a history of overt trauma or the pain may have followed dental treatment.18,19
Episodic NOP is characterized by sudden volleys of severe, electric-like shooting pain that lasts a few seconds to several minutes and is referred to as neuralgia.20 The classical example of this type of pain is trigeminal neuralgia (tic doulou-reux). There is often an intraoral or perioral (or both) trigger zone that, when lightly stimulated, provokes severe paroxysmal pain.20 Anesthetic blocking of the trigger zone may completely eliminate paroxysmal episodes during the duration of anesthesia.
Epidemiology
The true prevalence of NOP is unknown, as both continuous and episodic types are relatively uncommon in general population-based studies. In one of the few such studies investigating neuropathic pain, the reported prevalence was 0.03% for persistent idiopathic facial pain and 0.3% for trigeminal neuralgia.21 Another study, using a large US health insurance database containing information on 55 586 people, reported the prevalence of atypical facial pain (0.5%) and trigeminal neuralgia (1.0%).22
The diagnosis of NOP appears to be more common when patients present to a tertiary care orofacial pain centre. In a study carried out at a university-based orofacial pain/oral medicine centre, Suarez and Clark23 found the prevalence of NOP to be 10.6% (n = 1049); in a study at the same centre, Ram and others24 reported the prevalence of atypical odontalgia to be 2.1% (n = 3000). In a study by Israel and others,25 carried out at a hospital-based oral, facial and head pain centre, a prevalence of 40% (n = 120) for atypical facial neuralgia was reported. These differences may be due to inconsistent definitions of NOP and differences in the inclusion criteria and sample sizes.
Pathophysiology
Although the pathophysiology of NOP is yet to be fully elucidated, studies involving both human and animal models suggest that a number of complex peripheral and central mechanisms are involved in the initiation and maintenance of this pain.26,27 Briefly, changes in neural systems occur as a result of physiologic (peripheral and central) events, influenced by neurochemicals, anatomic structures and genetic components. It is common for the initiating event(s) to be unknown or unreported, although it is probable that some form of mechanical trauma, metabolic disorder, neurotoxic chemicals, infection (bacterial, viral, fungal) or tumour invasion causes a release of neurochemicals and inflammatory mediators from the peripheral tissues, primary afferent nerve endings or both. This can increase membrane excitability and decrease the activation threshold of peripheral nociceptors (a process referred to as peripheral sensitization) increasing nociceptive input into the central nervous system (CNS). This bombardment of the CNS induces synaptic plasticity characterized by spontaneous activity, expansion of receptive fields, lowering of activation thresholds, hyperexcitability of neurons in the CNS, anatomic alterations to inhibitory neurons and other neural tissues and genetic alterations (a process referred to as central sensitization).28-32 Furthermore, non-neural cellular elements, such as glial cells, have been reported to be intimately involved in this process.33-36
Dental Diagnostic Considerations
In many cases, people experiencing NOP present a dilemma to dental practitioners, as the additional nociceptive input to the CNS produced by irreversible or invasive procedures may exacerbate the NOP by burdening an already hyperexcitable trigeminal nociceptive system. This often leads to misdiagnosis or incomplete diagnosis, resulting in misdirected or incomplete treatment. It is not uncommon for such patients to return to the dental practitioner with the complaint of persistent pain after receiving treatment deemed successful based on clinical and radiographic criteria.
These people are often submitted to further inconclusive diagnostic testing, including unremarkable radiographic evidence of pathology. In an attempt to resolve the persistent pain, dental approaches are frequently implemented,37 and patients may endure irreversible and sometimes invasive and unnecessary dental treatment of the previously treated areas — soft or hard tissue — as well as adjacent and surrounding areas.18,38-42 In a retrospective study of 64 patients who had been diagnosed with atypical odontalgia, 71% had initially consulted a dentist with their pain complaint and, subsequently, 79% received dental treatment that did not resolve the pain.24
To avoid this pitfall, diagnosis must begin with a comprehensive history and clinical and imaging examinations. A differential diagnosis must be established to rule out pain of dental (soft or hard tissue), pathologic (peripheral or central) or psychologic origin (Fig. 1) Once a diagnosis of NOP is established, no further dental procedures should be performed unless specific dental pathosis is clearly identified. In such cases, the dental practitioner must decide whether to treat the patient or provide a referral to a health care professional who has an understanding of neuropathic conditions. In Canada, an ideal practitioner for such a referral would be a specialist in oral medicine.
Dental Care Considerations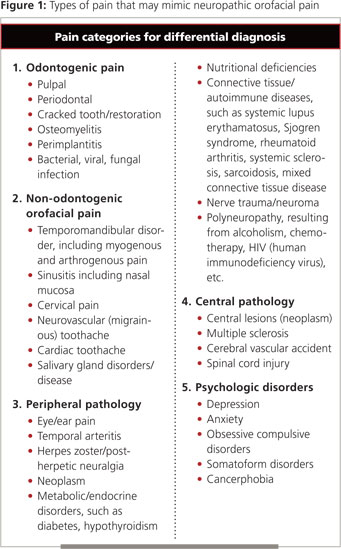 Patients experiencing NOP are not exempt from the need for routine dental treatment, but they often neglect maintenance and restoration procedures to avoid precipitating, perpetuating or exacerbating their pain. Unfortunately, this may lead to a progressive decline in their oral health, which may result in pain amplification from additional nociceptive input into an already dysfunctional nervous system. Therefore, the need for dental practitioners to encourage these people to be intimately engaged in appropriate measures to maintain their oral health cannot be overstated. Dental practitioners must also appreciate and be aware that routine procedures may exacerbate these patients' current pain43,44 and take measures to minimize the risk of such occurrences.
Appointment Scheduling
In NOP, pain often varies and fluctuates in intensity; therefore, an appreciation of the pain cycle is important. If pain is episodic, procedures should be carried out during periods of lowest pain intensity or remission. Furthermore, all dental procedures should be performed when medication used in the management of NOP is at its peak level of effectiveness. Hence, dental practitioners should have knowledge of the pharmacokinetics and pharmacodynamics of their patients' medication(s) to take advantage of these factors and provide maximum comfort with minimal risk of pain intensification.
Local Anesthetic
The administration of local anesthetic and the use of needles, although routine and rarely resulting in complications, may exacerbate pain in those with NOP. Despite appropriate and prudent needle application, peripheral neural trauma may increase pain and there is the potential for hematoma formation.45,46
Furthermore, all local anesthetics have some degree of neurotoxicity, which may also exacerbate pain in the NOP patient.45,47,48 Neurotoxicity depends on several factors, including the potency of the local anesthetic, its ability to create an ischemic environment resulting from vasoconstriction of alpha receptor-mediated microvessels associated with peripheral nerves and the proximity of the deposition and dispersal of the local anesthetic to the area of pathology (if such pathology is present).46,49,50
Thus, for a person with NOP induced by peripheral neural trauma and resulting in a localized neuroma or for someone experiencing neuralgia, administration of local anesthetic may have a direct affect on accessible anatomic structures and enhance existing pain as peripheral nociceptive input from this routine procedure may augment the centrally based hyperexcitability. Alternatively, if the dysfunction or pathology, such as cerebral vascular compression, were located in the CNS, there would be minimal concern over a direct effect on pain exacerbation.
Other important factors in the choice of local anesthetic are its concentration and the time of exposure of peripheral neural tissue.49 To minimize the risk of increased pain, dental practitioners should administer local anesthetic with the utmost care. They can avoid undue tissue trauma by using agents that have minimal neurotoxic and ischemic potential, the lowest concentrations and the shortest exposure times, maintaining the goal of delivering well-controlled and profound anesthesia.
Preventive and Hygiene Procedures
Dental practitioners may use several oral hygiene aids and techniques to limit stimulation, avoid an increase in a patient's NOP and prevent reluctance to perform normal daily dental hygiene procedures. Soft cleansing aids (a soft or sponge-like toothbrush), interdental cleaning devices (various floss textures, dental tape, interdental cleaners), antibacterial/antiplaque alcoholfree mouth rinses, recalcifying and remineralizing agents and fluoride supplementation in the form of custom trays or pastes, gels or rinses should be considered. For soft tissue maintenance and removal of calcified deposits, dental practitioners should consider careful and gentle administration of local anesthesia to the areas to be treated to produce anesthetic camouflage and, thereby, decrease noxious stimuli to the CNS.51,52
Restorative Procedures
Dental practitioners should consider the use of pre-emptive analgesia by providing the patient with "booster" doses of anti-neuropathic medications before invasive procedures.53 Administration of long-acting anesthetic at the end of the procedure should also be considered to delay postoperative input to the CNS.54,55
Dental procedures may be carried out under general anesthesia, with augmentation from local anesthesia, to avoid potential increased or enhanced peripheral and central sensitization. 53,56,57 If adequately trained or with assistance, dental practitioners may help patients achieve greater pain control using behavioural approaches, such as self-hypnosis and relaxation techniques.58
Conclusion
It is incumbent on all dental practitioners to recognize and understand the concept of NOP. In addition, they must understand that management of these patients often requires a comprehensive multidisciplinary team approach using multidimensional management strategies. The management team must take into account the physiologic, environmental, psychologic and genetic dimensions of pain. The dental team may be called on to provide preventive and restorative procedures for patients with NOP. In light of the complexities associated with NOP, a positive experience can only occur in the context of open communication among all health practitioners and validation, appreciation and respect for the person experiencing NOP — understanding their concerns, attention to their level of tolerance of procedures and the mutual establishment and agreement on a realistic set of goals. Ultimately, this approach will result in the delivery of the best quality of care to these patients.
THE AUTHORS
disponible en