Cite this as: J Can Dent Assoc ;78:c109
Body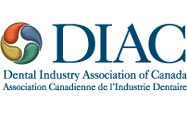 The following are recent announcements from members of the Dental Industry Association of Canada (DIAC).
3M ESPE Announces New Certified Lab Channel Partner
3M ESPE has entered into a partnership agreement with Proto3000, who will begin selling 3M ESPE Lava software and equipment and provide customer support for dental laboratories as of September 1, 2012. Read more.
Ivoclar Vivadent Opens New Canadian Headquarters and International Centre for Dental Education
Ivoclar Vivadent opened a new headquarters in Mississauga, Ontario, for its Canadian division. This same location will also house the International Centre for Dental Education; a facility with a lecture theatre, laboratory, clinical operatory and meeting facilities. Read more.
GC America Inc. Launches GC FujiCEM 2 Resin Modified Glass Ionomer Cement
GC America Inc. is launching GC FujiCEM 2; its second generation resin modified glass ionomer luting cement which incorporates new high-elastic crosslinking monomers with a modified filler-surface treatment. Read more.
Visit www.diac.ca for more Canadian dental industry news.